40 Channel Bulk Chargers for VRLA & Conventional Batteries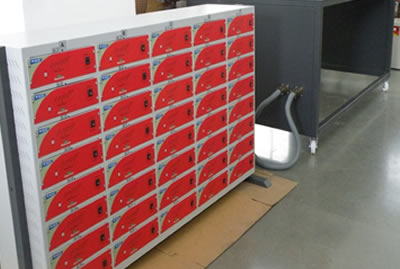 GP-MXV-40/ GP-MXF 40 is a 40 channel Motorcycle VRLA battery chargers which is a microcontroller based SMPS technology designed smart charger. It detects charging current required for the battery (depending upon battery condition). It also enables to charge deep discharge batteries.
Model: GP-MXV-40/ GP-MXF 40
Input Voltage AC: 90–270 VAC, 60Hz, Single Phase
Output Voltage: 12 VDC (Single Channel)
Output Current: 2A & 4A (Selectable)
Protections: Input U/V;O/V, Output U/V;O/V
Output Overload: Output Short Circuit
MCB Protection: 40 Amps, 415 Volts
Storage Temperature: -20o to 80°C Chargers Rack
Dimension: 137.4cm (Length) X 32cm (Width) X 82.5cm (Height)
Weight: 80kg Approx.
Motorcycle Conventional Battery Chargers Technical Specification
Wire length on Battery Rack: 300mm
Wire clip/clamp Material: MS clip chrome plating
Dimension: 175cm (Length) X 107cm (Width) X 82cm (Height)
Weight: 120Kg Approx.
Material used: MS with powder coating
Individual Battery Compartment: 17.5cm (Length) X 19.5cm (Width)
Wheel Capacity: 170kg each, capable to handle total 680kg, Two wheel with brake and fix position